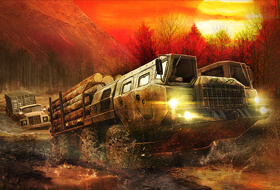 25 November 2020 / MudRunner Mobile
MudRunner Mobile: Old-Timers and 4-DLC Pack now available!
MudRunner, Saber Interactive and Focus Home Interactive's ultimate mobile off-road experience for iOS and Android, today arrives with new content! With demanding missions set in treacherous wilderness powered by a stunning physics engine, enjoy the realistic, immersive off-roading that already made it a hit on PC and consoles. Learn more about the new content from the Old-Timers DLC, which includes a new map and two add-ons!
Explore new wilderness frontiers!
Today's Old-Timers DLC lets you explore a new map, designed to put your pick-up truck mastery to the test. The Rocky Hills map is a sandbox environment without garages, for even more challenge! The DLC also features two new add-ons: a loaded log cart and scout trailer, offering new off-roading options in the wilderness.
New 4-DLC Pack bundles all MudRunner DLC at a reduced price
The 4-DLC Pack is a bundle featuring all paid DLCs for MudRunner Mobile to date. This includes The Valley, The Ridge, the American Wilds Expansion and today's Old-Timers DLC. Take advantage of this fantastic offer, saving 15% by purchasing the bundle.
The Old-Timers and Wild Collection Bundle DLCs are available now in the in-game shop. Visit the official store for more information. MudRunner is already available on iOS and Android-compatible devices.