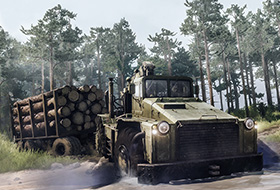 25 August 2020 / MudRunner Mobile
MudRunner Mobile expands its wilds with the Ridge DLC - Available today
MudRunner, Saber Interactive and Focus Home Interactive's ultimate mobile off-road experience for iOS and Android, continues to grow! With its trademark physics engine and challenging missions, MudRunner fans and newcomers alike can enjoy the realistic, immersive off-roading that already made its predecessors a hit on PC and consoles. Today's Ridge DLC brings a new map, new vehicles, and new gameplay possibilities to explore and experiment with.
Explore a coastal and mountainous wilderness with two new vehicles
The Ridge is a coastal map split in half by a mountain ridge - you'll need to take a lot of care if you want to cut time by travelling across the center. In addition, two new vehicles are being introduced: the D-538, a heavy duty tractor, and the B-6A, a lightweight tractor. These two vehicles can be used on any map, provided you have enough progression points unlocked. Completing The Ridge requires players to utilize a new type of delivery gameplay called Scavenging. Logs are now scattered across the map, and players will have to find them at various locations in the wild to complete deliveries and earn unlock points.
MudRunner is available now for purchase on iOS and Android-compatible devices. Get the Ridge DLC in the in-game shop!