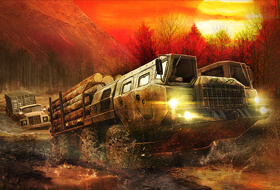 2 December 2020 / MudRunner Mobile
MudRunner Mobile launches gamepad support on iOS and Android!
MudRunner, Saber Interactive and Focus Home Interactive's ultimate mobile off-road experience, is now playable on gamepad! Venture into the wilderness with either a PlayStation 4 or Xbox One controller, now compatible with both the iOS and Android versions of the game.
Full gamepad support with no fuss
Connecting your controller is as simple as any other Bluetooth device. For the PlayStation 4 controller, hold the PS and Share buttons to enter pairing mode, while on Xbox One, hold the Sync button on the top left of the controller until the Xbox logo starts blinking. From there, simply connect via your usual phone settings menu, and you're ready to take full control of MudRunner Mobile's roster of vehicles! Note that your device will need to be updated with iOS 13 or Android 4.0 at minimum.
Explore new frontiers no matter the platform !
MudRunner Mobile is richer than ever thanks to last week's launch of the Old-timers DLC and 4-DLC Pack, the latter granting access to all DLCs released so far at a reduced price. On PC, off-roading fans everywhere can also experience the one-of-a-kind simulation for free on the Epic Games Store until December 2nd, and get its American Wilds Expansion at 50% off, as well as its sequel, SnowRunner and DLC, at up to 40% off until December 3rd.
MudRunner is available now on iOS and Android-compatible devices. Grab the Old-Timers and 4-DLC Pack now in the in-game shop. The whole franchise is also available on PS4, Xbox One and PC. Visit our official shop for more information.