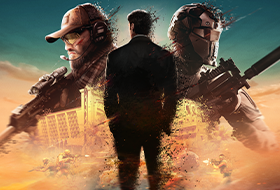 17 November 2021 / Insurgency: Sandstorm
Insurgency: Sandstorm's Next Major Content Update is Available Now on Steam
Insurgency: Sandstorm, the intense and immersive smash-hit FPS from New World Interactive and Focus Entertainment, celebrates its recent release on consoles with a new accolades trailer along with the launch of a major update, including a new map, game mode, weapons, and cosmetic sets, releasing today on PC and coming soon to consoles. Watch the Operation: Warlord trailer now to discover the new content and see what critics are saying about Insurgency: Sandstorm.
A free update to celebrate the kick off of the upcoming year of new content...

With Operation: Warlord's release today, escort or assassinate a VIP in the exciting new game mode Ambush. Race from cover to cover through tight alleyways in the new map Gap. Show off on the battlefield with brand new cosmetics and master the P90 and Vector to take down enemies with style.
…and a wealth of premium new cosmetics to choose from
In addition to free weapons and cosmetics, the new Praetorian Set Bundle has been released, including four Warlord themed gear and weapon skin sets. These premium cosmetics are the first step for Year 2 content within Insurgency: Sandstorm. Owners of the Gold Edition or the Year 2 Pass can download them for free.
The free Operation: Warlord Update is now available on PC and coming soon to consoles. Insurgency: Sandstorm, along with its Deluxe and Gold Editions, are available on PlayStation 4, Xbox One and PC. In addition, Steam players can enjoy up to 50% off, while Xbox Gold Members get 15% off for a limited time.