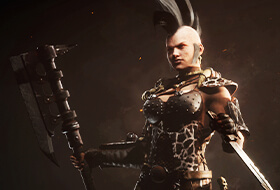 17 September 2020 / Necromunda: Underhive Wars
A handy Tips Trailer to navigate the Underhive!
Rogue Factor and Focus Home Interactive's innovative third-person tactical game Necromunda: Underhive Wars set in Games Workshop's Warhammer 40,000 universe, released last week on Xbox One, PlayStation 4, and PC. For the first time ever in a videogame, players got to experience the gritty and unforgiving world of Necromunda, but bending the Underhive to your will is no easy task. Whether you're a newcomer or a Necromunda veteran, we've compiled a list of helpful tips to help you come out on top of the Underhive Wars. Watch our Tips Trailer.

Endless ways to customise your gang and fight in the Underhive

Take advantage of Necromunda: Underhive Wars' signature verticality, or learn to master positioning by using the gridless movement system to its fullest. The tactical possibilities are nearly endless, and every element can be customised, from looks, to weapons, skills and passives - your gang is your own, and you better build it carefully if you want to survive.

With its three distinct modes, Necromunda: Underhive Wars features hundreds of hours of combined gameplay for you to sink into. Learn the ropes in Campaign mode before building your own gang and fighting the rest of the Underhive in Operations mode, or taking it into multiplayer Skirmishes to prove you're the best.

A host of improvements and new content already on the way

Since the release, we have been hard at work watching and implementing the feedback we received from the community, with our immediate priority being to fix technical issues players have been experiencing. More visibility on the content and extent of the fixes ahead is coming very soon.

Necromunda: Underhive Wars is available now on PC, Xbox One, and PlayStation 4. More information on the official website. Get the game, its original soundtrack and digital artbook, featuring a bonus short story at a discounted price on Steam!