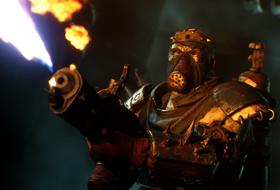 10 February 2021 / Necromunda: Underhive Wars
House Cawdor brings litanies of hatred on February 16
Necromunda: Underhive Wars, based on Games Workshop's iconic license, is expanding with its second gang DLC for PlayStation 4, Xbox One and PC on February 16! Developer Rogue Factor and publisher Focus Home Interactive are excited to present the Cawdor gang, a ferocious cult of battle-hardened fanatics ready to convert and conquer the Underhive!
Ward off battle damage as you carry the Cawdor's prophecy of universal destruction.
The Cawdor bring a fanatical bent to the action-packed, vertical shootouts in Necromunda: Underhive Wars in both single and multiplayer modes. Bound by their beliefs and forever hiding their faces behind elaborate masks, Cawdor zealots will shrug off blows that would cripple other fighters, maintaining their full battle capabilities even when grievously wounded.
Cawdor fighters also allow for the same suite of heavy gameplay and cosmetic customization as all other gangs. Recruit, customize and grow these mysterious cultists to create a truly unique and dangerous gang through your own choices of careers, perks, skills, armor pieces, weapons, consumables, color schemes, and much more!
The arrival of the Cawdor gang follows on from the release of the Van Saar gang and numerous major patches, as part of Necromunda: Underhive Wars' post-launch support.
Necromunda: Underhive Wars is available now on PlayStation 4, Xbox One, and PC. The Cawdor Gang will be released on February 16. Check out new screenshots today. For more information, visit the official store.