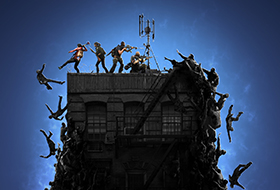 2 November 2021 / World War Z: Aftermath
World War Z out now on Nintendo Switch
For the first time, battle hundreds of zombies on the go as the hit World War Z series makes its Nintendo Switch debut
Saber Interactive and Focus Entertainment have released World War Z, the best-selling zombie shooter inspired by Paramount Pictures' blockbuster film and experienced by over 15 million players worldwide, on Nintendo Switch. World War Z is now available on the Nintendo eShop and at major retailers. World War Z - Deluxe Edition, featuring a bounty of bonus weapons and skins, is also available on the Nintendo eShop. Check out the Launch Trailer!
World War Z is the biggest zombie game on Nintendo Switch, delivering a thrilling action experience powered by Saber's dynamic Swarm Engine™ and developed by the team at Saber that produced the acclaimed Switch edition of The Witcher 3: Wild Hunt. Battle for humanity's survival against the relentless forces of the undead apocalypse alone or in up-to-four-player co-op in thrilling story campaign episodes in New York, Moscow, Jerusalem and Tokyo. Take on massive hordes of hundreds of bloodthirsty zombies across multiple game modes with seven unique classes and an arsenal of deadly weapons, explosives, turrets and traps.
World War Z - Deluxe Edition, available digitally, features bonus content including the Lobo Weapon Pack, Biohazard Weapon Pack, Military Weapon Pack, Last Aid Weapon Pack, Signature Weapon Pack, War Heroes Character Skin Pack, and the Professionals Character Skin Pack.
World War Z's PvPvZ mode, Horde Mode Z game mode and the Marseille story missions episode will be available for European Switch players as free post-launch DLC at a future date.
World War Z is also available on PC, PlayStation 4 and Xbox One in its most complete version: World War Z: Aftermath.