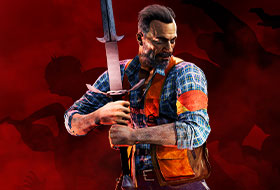 17 March 2022 / World War Z: Aftermath
World War Z: Aftermath releases the "Cut & Mend" major free Update on PC and consoles!
The free new "Cut and Mend" update is now available for Focus Entertainment and Saber Interactive's co-op zombie shooter World War Z: Aftermath. Players can grab the new Sword melee weapon and ACW rifle variant, both special rewards for collectible hunters that offer powerful perks in a firefight. The update also adds the ability to quickly swap between different perk loadouts for each class, new items for the medkit slot like adrenaline, which boosts your stamina and can be used to self-revive, and bandage kits, which can be used to heal teammates, plus all-new cosmetic trinkets. Discover these new features on the Cut & Mend Free Update Trailer!

Powered by Saber's dynamic Swarm Engine, Aftermath is the definitive World War Z release with all content from World War Z: Game of the Year Edition and two story campaign episodes. With full cross-play between PC and consoles, experience the heart-pounding immersion of Aftermath's optional first-person mode, decimate the undead with a new melee system, and level eight unique classes with distinct play styles and customizable loadouts.

World War Z: Aftermath is available on PlayStation®4, Xbox One, and PC via the Epic Games Store and Steam (with backwards compatible support on PlayStation®5 and Xbox Series X at 4K|60 FPS). The game is scheduled to launch on Stadia this year. The next-generation edition will officially launch on PlayStation®5 and Xbox Series X|S in the coming months with a free upgrade and other enhancements. The new Horde Mode XL is also scheduled to launch later this year on next-gen consoles, PC and Stadia.