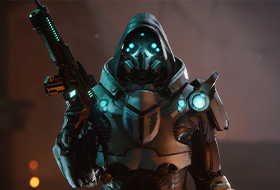 5 May 2022 / Warstride Challenges
Warstride Challenges ramps up the challenge with its first update today!
Warstride Challenges, the hardcore and explosive indie FPS from Focus Entertainment and Dream Powered Games releases its first update today, available for all players in Early Access on Steam, and coming in the future to PlayStation 5 and Xbox Series. The first of many, this update sees the arrival of Very Hard mode for Chapter 1, and improvements for the Level Editor.
The Warstride journey begins with the first of many updates
This first update gives Striders a first taste of the Very Hard difficulty level, unlocking it for Chapter 1 with 12 additional levels. Do you have what it takes to beat the clock? Furthermore, many improvements and fixes have been made, with a focus on making the Level Editor more accessible and precise with quality of life improvements and additional blocks. A Level Editor Guidehas also been created to give you tips about map creation.Creating your own devious and sadistic trials is now easier than ever - let your imagination run wild and don't hesitate to share your creations with the community!

Warstride Challenges You!
The community contest is now over. Our winners will get some awesome prizes thanks to our partner Intel, but that's not all! To reward all of our participants and amazing community, we will offer a promo code for redemption on the Focus Store. Stay tuned for more exciting contests in the coming weeks! #WarstrideChallenges
Warstride Challenges is available on Steam in Early Access, and will be available in the future on Playstation 5 and Xbox Series. Check out the Early Access Road Map to see all the content we are preparing for updates to come.