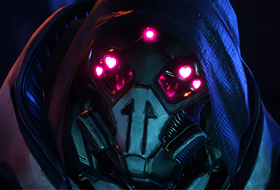 22 June 2022 / Warstride Challenges
Warstride Challenges gets a Big Fun Update - Watch the new trailer for its First major update now!
Warstride Challenges, the high-octane fast-FPS developed by Dream Powered Games and published by Focus Entertainment, gets plenty of new content with its latest Big Fun update, bringing a new chapter with its batch of original levels and two new gears: the Grappling Hook and the Rocket Launcher! Available in Early Access on Steam since April 2022, the game is an intense blend of classical FPS and racing game elements. Discover the fresh new content from this update in the trailer!

Big Fun Levels for a Big Fun Update
This new update starts unveiling Chapter 3, which the community has been awaiting, bringing 24 new and more open levels, as well as new bonus levels. You'll find several challenges in two different difficulty modes—normal and hard—and bonus levels to unlock thanks to feats and discoveries.
Fire your weapon through The Forge, a hellish new environment. Spill demon blood all over its wide rooms, and face ever more ferocious enemies, ever difficult goals! Be even faster than before, choose the right weapons and reach the finish line within the time limit.

New weapons and new explosive ability
On top of other recent updates, which already introduced new challenges, a new ability, new content for the Level Editor and various improvements, this update brings the Grappling Hook and the Rocket Launcher! Use your hook on platforms to increase your speed and taste the power of an all-new weapon to blast all enemies standing on your way. Finally, thanks to the implementation of an aim-assist, you may now kill your opponents in style using an impressive 360 noscope of the highest standard!
Warstride Challenges is available in Early Access on Steam, join in today to enjoy the newest update, and blast hordes of demons frenetically. To celebrate the release of the new update, enjoy a 25% time limited discount on Steam!