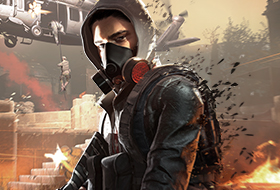 19 May 2021 / Insurgency: Sandstorm
Insurgency: Sandstorm - Operation: Exodus update adds new game mode, new map, new weapons, new cosmetics, and more
The indie smash-hit FPS Insurgency: Sandstorm celebrates another big update today with Operation: Exodus. This free update introduces a new Survival Co-op game mode, new map, two new weapons, and much more. In addition, the update brings a new paid cosmetics DLC bundle featuring a new Insurgent and Security outfit along with two weapon skin sets. Get all the info in the brand-new Operation: Exodus trailer and download the update to start playing now! New players are invited too, with a 50% discount on Steam starting today!
Survive in Co-op against waves of enemies, new map, new weapons
Operation: Exodus introduces a brand-new Co-op Survival game mode! Team up and do your best to stay alive while securing randomly placed objectives with limited weapon availability. The update also adds the Citadel map, a combination of narrow and ancient alleyways that force close-combat engagements, and an open area with its fair share of high ground, sight lines and cover, for a more tactical approach. Last but not least, two free new guns have also been added to the game for all players. Get your hands on the iconic Desert Eagle, or the French manufactured MR73 revolver, both available with their respective suppressors.
Freshen up the look of your arsenal with a set of new cosmetics: The Bear Claw and True Grit weapon skin sets, along with the Uprising Insurgent skin and the Bad Day Security skin. Each is available to purchase individually or as the Exodus Set Bundle.
Operation: Exodus is available now for Insurgency: Sandstorm, including a new map, new mode, and much more. Buy the game starting today on Steam at a 50% discount. There has never been a better time to jump into the nerve-wracking warfare of Insurgency: Sandstorm.