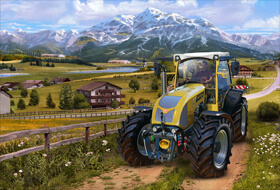 24 November 2020 / Farming Simulator 19
Farming Simulator ups realism and eco-friendliness by EU-backed free DLC
Precision Farming DLC available on December 8th
Farming Simulator 19 becomes more realistic by introducing Precision Farming: A free DLC featuring "smart farming" technology will be available on PC, PlayStation 4 and Xbox One on December 8th. The DLC is part of the 'Precision Farming Project' funded by EIT Food, Europe's leading Food Innovation Initiative. Developed by GIANTS Software, the DLC features new gameplay elements for more eco-friendly farming.
EU project led by John Deere, raising agricultural awareness
Initiated by acclaimed agricultural machine manufacturer John Deere, the project is set to take place over two years and involves a variety of collaborating partners of the European Union, including two universities involved in the concept and ongoing testing of the gameplay features.
"As John Deere's project manager of this EIT Food funded project I'm impressed by the great and very effective cooperation with GIANTS Software and our partners", explains Dr. Thomas Engel, Technology Innovation Strategy Manager at John Deere. "The first version of the DLC already offers more than I expected. Features like soil sampling and variable fertilizing offer a great introduction into the world of Precision Farming. I'm convinced that we're able to massively strengthen the knowledge about modern agriculture within the gaming community."
The goal of the Precision Farming Project is rooted in the fact that public knowledge about farming is in decline. With the link between society living in big metropolitan areas and modern agricultural technology almost severed. Modern precision farming technologies are introduced in the Farming Simulator product as one of EITs multiple efforts to change this false perception and raise awareness for sustainable farming in the general public.
New gameplay features make virtual farms more efficient and eco-friendlier
Players will be able to optimize their yield by taking soil samples to identify four different soil types with individual requirements. They need to take pH values and nitrogen content in the soil into account. Dynamic application rates based on soil properties allow saving resources like seeds, fertilizer, fuel, maintenance cost and more, saving money while operating more environmentally-friendly.
"We're excited to elevate the aspect of realism in Farming Simulator with the expertise of our partner John Deere while contributing to the solution of an agricultural challenge. We hope the new gameplay features will please our fans while spreading awareness of modern agricultural technology", says Christian Ammann, CEO of GIANTS Software.
Project and DLC to evolve even further
Releasing this DLC marks only the first step for the game: While the exact course of further development is yet to be determined together with the University of Hohenheim (Germany) and University of Reading (Great Britain) as well as player feedback, the continuation of the project is about to bring even more gameplay-features and build a closer connection between modern society and agriculture. More information is available on farming-simulator.com.
Farming Simulator is now available for PC, Mac, PlayStation 4, and Xbox One. The Premium Edition including base game and all DLCs is also available everywhere, for PC, Mac, PlayStation 4 and Xbox One, in digital or retail stores.