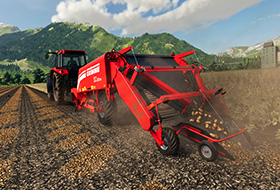 26 January 2021 / Farming Simulator 19
Farming Simulator 19 expands today with the new GRIMME Equipment Pack!
Farming Simulator 19 brings even more tools and equipment to its already huge roster with today's release of the GRIMME Equipment pack! Featuring machinery by the renowned international farming equipment manufacturer, the pack is available now on PC, Mac, PlayStation 4 and Xbox One. Get the full overview in its Launch Trailer!
14 new machines bring fresh farming possibilities today
Created by Team FSI Modding, winners of the Mod Contest Special Award, the GRIMME Equipment Pack brings a whole host of new farming possibilities with an emphasis on potato harvesting. The pack contains 13 new pieces of equipment from GRIMME, including potato harvesters, planters, weeders, transport belts and trailers, as well as a bonus tool from the in-game Lizard brand. All items will be available through the in-game shop after downloading the pack.
The GRIMME Equipment Pack is available now on PC, Mac, PlayStation 4 and Xbox One. If you own the Season Pass for Farming Simulator 19, you can download the DLC for free now via digital stores.