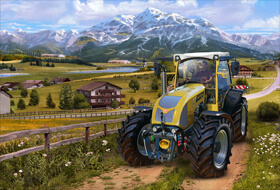 22 July 2020 / Farming Simulator 19
Farming Simulator 19 reveals new Alpine Farming Expansion, already available for pre-orders on PC
Farming Simulator 19, the multi-million selling farming experience, gets even bigger with the release of the huge Alpine Farming Expansion, coming November 12th to PC, Mac, PlayStation 4, and Xbox One! The Premium Edition is also coming to PC digital and in retail stores for all platforms for the first time, also on November 12th. GIANTS Software and Focus Home Interactive are delighted to introduce the exciting new content players can look forward to in today's Alpine Farming Expansion Reveal Trailer!

Reach for the mountaintop with new environment, vehicles, machinery and more

The Alpine Farming Expansion offers a brand-new alpine environment, in which you'll drive and use over 30 authentic vehicles and farming machinery from leading brands including Aebi, Lindner, Pöttinger, Rigitrac, SIP and more. As explored in today's trailer, widen your horizons in new, lucrative mountain farming activities up on the hills and down in the valley.

Discover the base game and all DLCs in the Farming Simulator 19 Premium Edition

The Premium Edition contains the multi-million seller game Farming Simulator 19 and a harvest of additional content across 10 official DLCS, including the Alpine Farming and Platinum Expansion. The retail version of the Premium Edition contains a Premium 72-page artbook welcoming new users to the world of Farming Simulator 19!

The Alpine Farming Expansion releases November 12th for PC, PlayStation 4, and Xbox One. The Alpine Farming Expansion can be pre-ordered now on PC, and will be made available as part of both the Season Pass and Premium Edition.

The Premium Edition is already available on PS4 and Xbox One. Pre-orders are now open for PC digital and for retail on all platforms ahead of the release on November 12th.