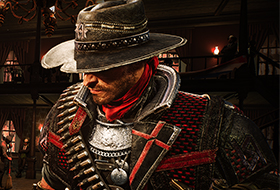 7 June 2022 / Evil West
Evil West releases September 20! Get ready for an explosive Weird West experience in its new trailer
Evil West, the dark fantasy, Weird Wild West, third-person action game from Focus Entertainment and Flying Wild Hog, just got its long-awaited release date on the books. Coming to PlayStation 5, PlayStation 4, Xbox Series X|S, Xbox One and PC, the game will release on September 20! Pre-orders are now open on Steam and on the Focus Entertainment Store with an exclusive cover art. Get ready for wild vampire hunting with the explosive Release Date Reveal Trailer and exclusive new screenshots.

Evil never sleeps… but it bleeds
Jump right into frantic, gory carnage in a vampire-infested Wild West as the trailer introduces gunslinger Jesse Rentier on his mission to eradicate the supernatural terror. As the star agent in his father's undercover monster-hunting organization, his fight is also a personal war against the nightmarish leading figures in the vampire world. Take on Jesse's role as the final line between humanity and the vampire threat, rise up to become a Wild West Superhero and save the United States!

Get fired up by the explosive third-person action gameplay featuring an overpowering arsenal of weapons and guns. Take part in stylish, visceral combat as you unleash hell with your firearms, lightning-fueled gauntlet and gadgets.
Evil West releases September 20 on PlayStation 5, PlayStation 4, Xbox Series X|S, Xbox One and PC. Pre-orders are open on Steam and on the Focus Entertainment Store with an exclusive cover art.