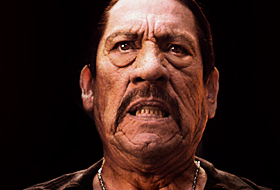 17 November 2022 / Evil West
Evil West's release is upon us. Watch Danny Trejo give a strong nod of approval!
One week ahead of its launch, the Weird Wild West action-adventure teams up with actor Danny Trejo to bring laughter and excitement in a new video.
Evil West, the third-person action adventure that puts you in the boots of a vampire hunter rescuing a Wild West devoured by darkness, just shared a new video starring actor Danny Trejo in a priceless performance! Coming November 22 to PlayStation 5, PlayStation 4, Xbox Series X|S, Xbox One and PC, the game is open for pre-orders on all platforms, with exclusive cover art for physical editions via the Focus Entertainment Store. Get ready to kick vampire ass now with Danny!
Less distraction, more action
If Evil West is nothing short of a blast, that's thanks to an explosive gameplay that rids itself from any extra, tedious worry. Actor Danny Trejo, of badass film fame, is not one to let anything interfere with his smashing business. Naturally, Evil West is just his kind of video game: a satisfying run of adrenaline that brings action fun back to basics.
Jump right into fast-paced, over-the-top carnage in a vampire-infested Wild West. Eradicate bloodthirsty monstrosities in style with an overpowering arsenal of weapons and a lightning-fueled punch, combining brutal melee and ranged combos to dominate visceral boss fights and encounters.
Evil West releases November 22 on PlayStation 5, PlayStation 4, Xbox Series X|S, Xbox One and PC. Pre-orders are open on all platforms and on the Focus Entertainment Store with an exclusive cover art for physical editions.