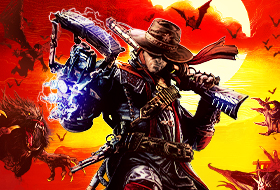 10 December 2021 / Evil West
Evil West fires on all cylinders in The Game Awards Gameplay Reveal Trailer!
Focus Entertainment and Flying Wild Hog are delighted to unleash the Gameplay Reveal Trailer of Evil West, the dark fantasy, Weird West, third-person action game. Premiered at The Game Awards 2021, see the game in action for the first time in a new explosive trailer and discover new screenshots below!
Wield a deadly arsenal to destroy the creatures of darkness
Get a thunder-packed uppercut of adrenaline in today's trailer with fast-paced and visceral third-person combat. Paint your lightning-fueled gauntlet with monster blood using brutal combos as you blast your way through various weird west locations. Face hulking abominations, screeching monstrosities, and ancient vampires and ram them all back to hell one piece at a time in spectacular boss fights and encounters.
Evil West releases in 2022 on PlayStation 5, PlayStation 4, Xbox Series X|S, Xbox One and PC. Wishlist the game now, follow us on social networks, and sign up as a Focus member now to get latest info and upcoming exclusive offers for Evil West and the whole Focus catalogue.