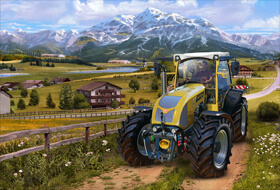 5 November 2020 / Farming Simulator 19
Discover the Alpine Farming Expansion's lofty heights in new trailer
With several million copies sold to date, the Farming Simulator franchise from GIANTS Software and Focus Home Interactive reaches new heights on November 12 with the arrival of the Alpine Farming Expansion for Farming Simulator 19. Available for PC, Mac, PlayStation 4 and Xbox One, pre-order the expansion now for new agricultural activities in a whole new mountainous environment with brand new vehicles and equipment. Find out more about what's new in the expansion in today's Farm the Mountaintop trailer.
New vehicles and activities in the mountains
Take control of over 30 authentic vehicles and agricultural machinery from leading brands such as Aebi, Lindner, PÖTTINGER, SIP and more, in the heart of the mountain valleys of Erlengrat, the expansion's new environment. A very special appearance is the first ever electric vehicle in the series, featuring the introduction of the Rigitrac SKE 50. With a range of new activities as exciting as they are lucrative, discover the specifics of alpine agriculture and breeding, particularly grass harvesting, the flagship activity of this new extension.
Experience the base game with all DLC in Farming Simulator 19 Premium Edition
Bringing you the most farming activities possible, the Premium Edition contains the best-selling game Farming Simulator 19 base game along with 10 additional content packs, including the Alpine Farming and Platinum expansions. The physical version of the Premium Edition also contains a 72-page premium artbook for newcomers to the world of Farming Simulator 19!
The Alpine Farming Expansion releases November 12th for PC, Mac, PlayStation 4, and Xbox One. Review codes are available, claim yours by registering here.
The Alpine Farming Expansion can be pre-ordered now on PC, and will be made available as part of both the Season Pass and Premium Edition. The Premium Edition is already available on PS4 and Xbox One digital stores. Pre-orders are now open for PC digital and for retail versions on all platforms ahead of the release on November 12th.