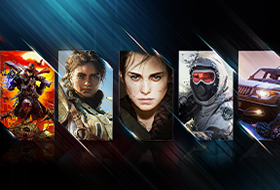 9 September 2022
Check out Focus Entertainment's Steam Publisher Weekend and current events
From 8–15 September, Focus Entertainment's Publisher Weekend brings discounts up to 90% over its whole catalog on Steam
A Steam Publisher Weekend with up to 90% off the Focus catalog
From 8–15 September, a wide range of recent and bestselling titles are discounted as part of this year's Focus Entertainment Publisher Weekend. Enjoy huge deals across the entire Focus catalog, including the acclaimed adventure A Plague Tale: Innocence, the ultimate off-road experience SnowRunner, the high-octane fast-FPS Warstride Challenges, the acclaimed zero-g spaceship-salvaging sandbox game Hardspace: Shipbreaker, and much more, going up to 90% off! Don't miss discounted indie gems from Deck13 Spotlight, also part of the Steam Publisher Weekend.
Get ready for A Plague Tale: Requiem and Evil West with content from the devs!
A Plague Tale: Requiem, the sequel to the critically acclaimed A Plague Tale: Innocence by Asobo Studio and Focus Entertainment, recently revealed itself in a Gameplay Overview. The game releases on October 18, pre-order it now and grab its prequel A Plague Tale: Innocence at 80% off on Steam as part of the Focus Entertainment Publisher Weekend.
Meanwhile, Evil West, the third-person action game that puts you in the boots of a vampire hunter rescuing a Wild West devoured by darkness, released a new Extended Gameplay trailer. Releasing November 22, pre-orders are now open for all platforms.

New content released for some best-sellers!
SnowRunner, the open-world sandbox off-road simulation from Saber Interactive and Focus Entertainment, just released its Wolf Pack, a new DLC including three Western Star trucks unveiled just last month. Get the base game and Premium edition at 40% off as part of the Publisher Weekend, as well as its DLCs at up to 30% off including the new Wolf Pack DLC.
Pathogen Expansion with its ton of new content is out for Aliens: Fireteam Elite! Get a special 50% discount off the base game and upgrade your edition.

Keep an eye on our newly-announced games
Exciting new releases are on the way, from the console version of Hardspace: Shipbreaker to newly announced Atlas Fallen and BLACKTAIL. Watch epic fantasy action-RPG Atlas Fallen's and surreal first-person action-adventure BLACKTAIL's trailers revealed at Gamescom with a warm welcome from the audience. Pre-order Hardspace Shipbreaker for PlayStation 5 and Xbox Series X|S now and be ready to play when the game releases on September 20, or get 25% off the Steam version now, and 20% off the OST.