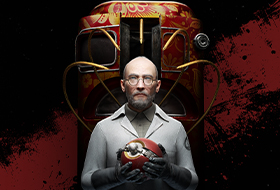 2 August 2023 / Atomic Heart
Atomic Heart's first story DLC is out today with an explosive launch trailer
The cinematic shooter extends its plot and pimps the experience with a new area, new enemies, new weapons and a new ability.
Today, publisher Focus Entertainment and studio Mundfish are excited to release the first DLC forAtomic Heart, the action-RPG set in the mad utopia of fictional 1955. TheAtomic Heart: Annihilation Instinct DLC debuts the Atomic Pass' series of additional content, introducing exciting new features to complement new narrative content: a new area, new weapons, new enemies, a new glove ability… Dive deeper into the story of the game's captivating world in Atomic Heart: Annihilation Instinct and celebrate the DLC's launch with a high-octane trailer and discounts on all Editions up to 40% off!
The technological nightmare isn't over
Embark on a new, mind-bending journey with the Atomic Heart: Annihilation Instinct DLC and discover the truth about NORA's story as Major P-3 is pulled back into Facility 3826. Meet an enigmatic Professor Lebedev to figure out how to suppress the AI's insanity and curb its Annihilation Instinct.
Continue the story and go on exploring Atomic Heart's twisted, dystopian world further as you visit the Mendeleev Complex and its surrounding swamps, a completely new area. Take on unhinged machines, shape-shifting new enemies and a brand-new boss. Unlock two new weapons: the Secateur – a ranged weapon with 2 firing modes – and the Klusha – a melee weapon that can slash and pierce! Finally, get the edge and survive by enhancing your polymeric glove with the new Technostasis ability, allowing you to manipulate time itself.
Atomic Heart is out now on PlayStation 5, PlayStation 4, Xbox Series X|S, Xbox One and PC, with three available editions: Standard (base game), Gold (base game + Atomic Pass) and Premium (base game + Atomic Pass + digital artbook). Grab any of them now to enjoy up to 40% off! The Atomic Heart: Annihilation Instinct DLC is available now. It is included in the Atomic Pass and in the Gold and Premium Edition.