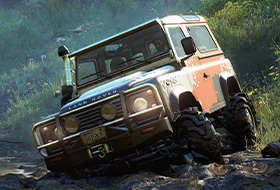 8 June 2022 / SnowRunner
Watch Land Rover's much awaited arrival in SnowRunner become a reality in an exciting new trailer
SnowRunner, the blockbuster open-world off-roading experience from Saber Interactive and Focus Entertainment, welcomes a new and most-awaited addition to its powerful vehicle roster: the Land Rover Defender. Check out these bad boys in action in the Land Rover Dual Pack Trailer!
An off-roading icon comes to SnowRunner
Land Rover finally joins the most advanced off-road simulation! The addition of the iconic brand is exciting news for the whole SnowRunner community, and its debut pack, the Land Rover Dual Pack, will thrill all off-road enthusiasts, bringing them two generations of the legendary Land Rover Defender.
Faithfully rebuilt for the first time in SnowRunner, the Land Rover Defender is an overland icon which first saw the day in 1948, and is a symbol of power, durability and versatility to this day. The Defender series has established itself as a must-have for all off-road adventurers everywhere. Its resistance to all conditions has now come to brave SnowRunner's perilous open world!
The Land Rover Dual Pack is available now for purchase on PlayStation 5, PlayStation 4, Xbox Series X|S, Nintendo Switch, and PC as a standalone DLC, with Xbox One coming soon. Get SnowRunner, its Year 1 and Year 2 Passes on your preferred platform, with full crossplay support enabled. For more information, visit the game's page in the Focus Store.