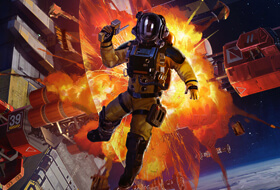 21 December 2020 / Hardspace: Shipbreaker
The Business is Booming update launches today with new trailer
Blackbird Interactive and Focus Home Interactive's acclaimed space sandbox salvaging game, Hardspace: Shipbreaker, today launches The Business is Booming update. Continuing the game's successful Early Access period, this latest update brings a brand-new ship archetype and tool for fresh salvaging opportunities! Join the devs in today's update trailer and grab the game today at 30% off on Steam.
New tool and ship type expand the cosmic fun
The Business is Booming update is the most game-changing yet, bringing a new ship type and, for the first time, a new tool into the mix. The Javelin ship archetype is the biggest addition, offering a totally new challenge with a drastically different look and feel to Hardspace's previous ships. With most of its features externally exposed along the ship's spine, players will need to rethink their salvaging approach entirely. Meanwhile, the new Demo Charge tool adds even more options to the player's arsenal. The explosive can be placed or thrown freely, before being remotely detonated. This comes in addition to a revamp of the tool durability system alongside QOL updates and fixes.
Get the space salvaging experience at 30% off and discover the OST!
Today's update expands upon many hours of endlessly replayable gameplay. Alongside new ships, components, game modes, leaderboards and cosmetic options, several additions have been made thanks to direct community feedback. In addition, players can now get the Original Soundtrack as a standalone or bundled with the game on Steam. Enjoy music from the frontiers of industrialized space and receive a special discount! This soundtrack will be expanded over the game's Early Access period at no additional cost. For more info on both current and upcoming content, take a look at Hardspace: Shipbreaker's roadmap on Steam for a summary of what's been added and is still to come!

Hardspace: Shipbreaker is available now on Steam Early Access. Celebrating the release of The Business is Booming major update, the game is currently 30% off on Steam until January 5th. Players can also get the GAME + OST Bundle on Steam, with an additional special discount. Console releases are planned at a later date.