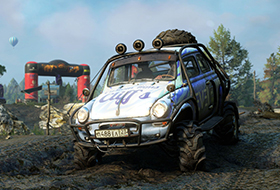 31 May 2022 / SnowRunner
SnowRunner's Season 7 is now available, along with PS5 and Xbox Series versions of the game!
SnowRunner, the blockbuster off-roading experience from Saber Interactive and Focus Entertainment, welcomes today its new entry with Season 7: Compete & Conquer. Available to all Year 2 Pass owners, this update introduces a new region with a summer map to explore, two new cars, and exciting racing activities. Discover this new season in 4K/60 FPS as SnowRunner on PS5 and Xbox Series has also released today in digital or retail versions. Get ready for it all with Season 7 Overview Trailer!

New, Tennessee-bound racing fun
Discover the wilderness of Burning Mill, Tennessee in Season 7: Compete & Conquer. Coming as a fresh map of 4 km², experience its competitive environment and a taste of summer, as you drive along its large river, through a village of tents and under a sky filled with hot-air balloons. A dirt circuit and a rally-ready off-road setting complete this map to receive brand new racing challenges. Compete against your friends or chase the clock in checkpoint races!.
New challenges call for new vehicles, and Season 7 welcomes two new additions for the occasion, each with an exclusive racing-themed skin: the Gor BY-4 , a super lightweight scout car, and the Sprinter 43-19, an impressive Dakar-style truck designed to maintain a high speed under the harshest conditions.
As with every new phase, all SnowRunner players will get new cosmetic options, with the addition of 10 new exterior stickers. To top it up, Season 7 brings cross-play support to Nintendo Switch, allowing its users to compete with PC, PlayStation and Xbox players!
Conquer the wilderness in 4K/60FPS on PlayStation 5 and Xbox Series X|S
Saber Interactive and Focus Entertainment also take SnowRunner to new simulation heights, with the game's debut on PlayStation 5 and Xbox Series X|S. All current owners will get to upgrade their game for free. With 60 FPS, enhanced graphics with up to 4K UHD, faster load times, deeper depth of field and more, SnowRunner's open world has never been more breathtaking!
Season 7: Compete & Conquer is available now for PlayStation 5, PlayStation 4, Xbox Series X|S, Nintendo Switch, and PC, with Xbox One coming very soon. A free upgrade to PlayStation 5 and Xbox Series is also available for all current owners on PlayStation 4 and Xbox One, or digital and retail versions for newcomers. For more information, check out the game's page on the Focus Store.