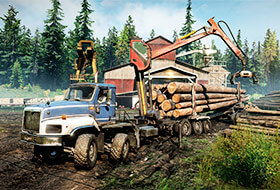 3 February 2021 / SnowRunner
SnowRunner's Season 3 arrives soon with new maps, new vehicles, and the return of logging activities!
SnowRunner, the block-buster ultimate off-road driving experience from Saber Interactive and Focus Home Interactive, will soon expand once again with Season 3: Locate & Deliver. Coming to all Season Pass and Premium Edition owners, this update brings two new maps in a new region, three new vehicles, three vehicle skins, new stickers, and much more. The accompanying free update also brings new trials, new cargo, and new missions. Check out screenshots of the debuting maps and vehicles now.
Fan-favorite logging is making a return in Wisconsin, USA!
Wisconsin, USA debuts as part of Season 3, with a logging-heavy new region. Gear up in the new vehicles and get ready to explore these heavily forested, near-flooded zones with massive rivers and treacherous terrain everywhere you look. A massive amount of new gameplay awaits, harkening back to the log-filled roots of the franchise while players rehabilitate a broken-down railway as part of efforts in the new region.
Season 3 also comes with a free update that will be made available for all SnowRunner players. The biggest additions are new trials, cargo and missions, along with various cosmetic upgrades - something all players can celebrate!
SnowRunner is available now on PlayStation 4, Xbox One, and PC. Season 3: Locate & Deliver is also available as a standalone DLC or as part of the Season Pass. The Premium Edition of the game includes both the base game and Season Pass, and can be purchased on the official store.