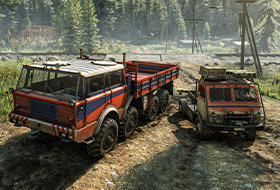 22 June 2021 / SnowRunner
SnowRunner welcomes TATRA, esteemed European truck manufacturer, with a new DLC
Saber Interactive and Focus Home Interactive are happy to celebrate the start of a new partnership with the addition of the famous Czech manufacturer TATRA TRUCKS to SnowRunner, the blockbuster off-road driving experience on PlayStation 4, Xbox One, Nintendo Switch, and PC. The game already boasts a strong lineup of popular and respected vehicle manufacturing brands, which TATRA now improves even further with today's release of the TATRA Dual Pack. The two brand new trucks are available to all Year 2 Pass owners - get a first look in today's screenshots.
Two fan-favorite trucks with a signature feature
TATRA is the first European brand to join SnowRunner's family of rugged, iconic, and durable vehicles, taking the stage in style with the TATRA 813 and TATRA 805. The 813 is a heavy 8-wheeler boasting incredible agility for a truck of its size, while the 805 is a versatile off-road truck capable of traversing the most difficult of paths.
With the wide variety of treacherous and difficult wilderness you'll explore in SnowRunner, you may want to bring a friend or three to push these powerful trucks to their limits and get the job done. Unique to SnowRunner, these two TATRA trucks come with the ability to adapt their axles to the terrain for better traction.
More TATRA to come in the Year 2 Pass
Today's TATRA Dual Pack is available to all Year 2 Pass owners. SnowRunner has mountains of content yet to come, and that includes more TATRA trucks, so stay tuned for more.
The TATRA Dual Pack is available now to all Year 2 Pass owners. SnowRunner and the Year 2 Pass are also available for purchase on PS4, Xbox One, Nintendo Switch, and PC. Visit the official shop for more information.