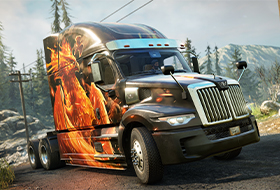 9 September 2022 / SnowRunner
SnowRunner takes its partnership with Western Star further with the brand new Wolf Pack available now!
SnowRunner, the open-world sandbox off-road simulation from Saber Interactive and Focus Entertainment, just released its Western Star Wolf Pack, a new DLC revealed in a series of screenshots. Coming as a standalone DLC, it adds the brand new trucks Western Star unveiled last month as well as exclusive cosmetics. Preview the upcoming content from The Wolf Pack DLC now in today's screenshots.
Drive the 57X and 47X before their real-life counterparts even hit the road!
Get ready to face SnowRunner's extreme wilderness behind the wheel of Western Star's 57X, 47X NF1424 and its NF1430 variant. These new additions will be your new home for efficient missions in safe and durable vehicles which can adapt to all conditions. And with plenty of cosmetics, you can make them truly your own.
This DLC continues the long-standing partnership between Western Star and Focus Entertainment. Dating back from the days of MudRunner: American Wilds, Focus Entertainment is thrilled to keep bringing Western Star's powerful trucks to players setting for the wilderness.
SnowRunner x Focus Publisher Sales
SnowRunner, its Editions, its Year 1 and Year 2 Passes, and a number of standalone DLCs are also discounted as part of the Focus Publisher Sales currently running on Steam. Don't miss this opportunity to grab the game and all of its DLCs at up to 40% off!
The Wolf Pack is now available on PlayStation 5, PlayStation 4, Xbox Series X|S , Xbox One and PC as a standalone DLC, and will be coming to Nintendo Switch owners on September 20. Enjoy discounts as part of the Focus Publisher Sales and get SnowRunner, its Premium Edition, and its Year 1 and Year 2 Passes on your preferred platform, with full crossplay support enabled. For more information, visit the game's page in the Focus Store.