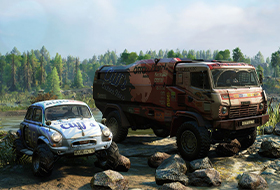 17 May 2022 / SnowRunner
SnowRunner: Season 7 releases May 31 along with PS5 and Xbox Series versions
SnowRunner, the blockbuster off-road driving experience from Saber Interactive and Focus Entertainment, is expanding once again with Season 7: Compete & Conquer on May 31st. Available to all Year 2 Pass owners, this season adds a summer map full of brand-new and challenging racing activities for players to measure themselves against. Two new vehicles will also make their debut, along with a host of new customization options! Take a look at today's fresh batch of screenshots for a sneak peek at the new challenges ahead, coming to PS5, PS4, Xbox Series X|S, Xbox One, Nintendo Switch and PC on May 31st.

Race against the clock or your friends!
Season 7: Compete & Conquer takes you to Burning Mill, Tennessee and introduces new racing activities for the very first time in the series. Take part in time-trial events and secure checkpoints on your way to the finish line or compete with friends for bragging rights on dirt and off-road tracks. With hot-air balloons in the sky and a village of tents, the stage is set for SnowRunner to get competitive!
To help you beat the clock, two new vehicles will make their way to your garage, each with an exclusive racing-themed skin: the super lightweight Gor BY-4, and the Sprinter 43-19, a fearsome Dakar-style truck tailor-made for speed in the harshest conditions.
As usual, Phase 7 also comes with a number of free customization items for all SnowRunner players and on top of it all, players on Nintendo Switch will be able to race their friends playing on PC, PlayStation and Xbox with the introduction of Crossplay support!
Conquer the wilderness in 4K/60FPS on PS5 and Xbox Series X|S
Alongside the release of Season 7: Compete & Conquer, SnowRunner is also coming to PlayStation 5 and Xbox Series X|S as a free update for all existing owners. Exploring the wilderness has never been so smooth or beautiful, with this enhanced version offering 60 FPS, enhanced graphics with up to 4K UHD, faster load times, deeper depth of field and more!
Season 7: Compete & Conquer releases May 31th as part of the Year 2 Pass. SnowRunner is available now for PlayStation 4, Xbox One, Nintendo Switch, and PC. The PlayStation 5 and Xbox Series X|S versions will release on the same day, with a free upgrade for all current owners of the game or digital and retail versions for newcomers. For more information, check out the official store.