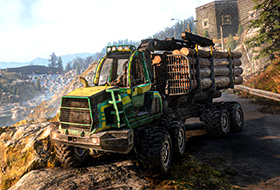 8 December 2021 / SnowRunner
SnowRunner Season 6: Haul & Hustle has arrived, bringing brand new maps in Maine, USA - see the Trailer now!
Saber Interactive and Focus Entertainment are thrilled to announce the release of Season 6: Haul & Hustle for SnowRunner, delivering a giant payload of content, including a whole new region with two new large maps brimming with unique activities, as well as two new vehicles. Get your engine warmed up with today's Season 6 Overview Trailer!
Establish a forestry base in the wild forests of Maine, USA
Strike out into the remote regions of Maine, braving the elements with two new vehicles: the Aramatsu Forwarder, an agile 8x8 forestry specialist with a built-in crane and log trailer, and the Tayga 6455B, a tough, versatile 6-wheeler that can handle even the unforgiving terrain of Maine, which contains both areas of mud and snow. Overcome one of the toughest challenges yet, starting out with a barebones garage without repairs or refueling, that you upgrade over time.
Free update arrives with PC-Console Crossplay, Photo Mode, and more!
Alongside Season 6, a large free update has arrived, adding crossplay between PC and PS4, with Xbox One joining soon after, a fully fledged photo mode, new addons, and a slew of vehicle skins, chosen based on the community's favourite in-game vehicles.
Season 6: Haul & Hustle is available now on PlayStation 4, Xbox One, Nintendo Switch and PC as a part of the Year 2 Pass. SnowRunner and the Year 1 and Year 2 Passes are available on all platforms. For more information, visit our official shop page.