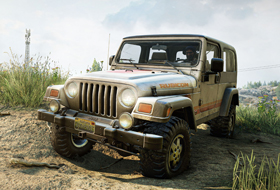 13 September 2021 / SnowRunner
SnowRunner partners with Jeep to add two off-roading legends - Play with the Wrangler-Rubicon and Renegade today!
In partnership with Jeep, Saber Interactive and Focus Entertainment are excited to announce two iconic Jeep trucks have come to the SnowRunner garage! Available to purchase now on PlayStation 4, Xbox One, Nintendo Switch and PC as standalone DLC, SnowRunner owners can take these high-performance scouts for a ride. Check out today's thrilling Jeep Trailer and new screenshots to see the Wrangler-Rubicon and the CJ-7 "Renegade" in action.
Get two legendary trucks with the Jeep Dual Pack.
These new trucks are part of the renowned CJ class, for "Civilian Jeep", that came into service as open-bodied, compact pickup trucks and keeps its place in history for being the first mass-produced four-wheel-drive civilian car in the world.
The CJ-7 "Renegade" and the Wrangler-Rubicon are lightweight scouts like no other with powerful modern engines, easily capable of clearing shallow to medium-depth mud. Jeep's signature custom suspension system also has an excellent performance in rock-crawling and other rugged terrains.
The Jeep Dual Pack is available now for purchase on PlayStation 4, Xbox One, Nintendo Switch, and PC as a standalone DLC. The ultimate off-roading experience, SnowRunner, its Year 1 and Year 2 Passes are available now on PlayStation 4, Xbox One, Nintendo Switch and PC. For more information, visit our official store page