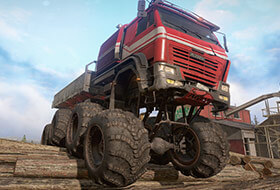 16 December 2020 / SnowRunner
SnowRunner mods have arrived on consoles!
SnowRunner, the blockbuster off-roading simulation experience on PlayStation 4, Xbox One, and PC, today brings mods to console! Dive into the latest trailer by developers Saber Interactive and publishers Focus Home Interactive, a celebration of the diversity, quality, and quantity of content that mods bring to console players everywhere.
A constant stream of free new vehicles, maps, and more.
With a selection of 30+ mods already available right now on PS4 and Xbox One, console players can look forward to a steady flow of new mods as Saber works with modders to keep bringing them from the huge selection already available on PC. These mods range from vehicles and maps, to tweaks, to a drivable moustachioed octopus and more. Visit mod.io to learn more about the rules that govern SnowRunner's mod creation and sharing
A talented community with real drive.
Since launch, SnowRunner's huge sandbox environments and physics-based driving gameplay has been fertile ground for talented and passionate modders. With over 5 million mods downloaded so far, the success of SnowRunner is inextricably tied to the endless creativity of the modding community, and the know-how of the modding platform mod.io, with whom Saber and Focus Home partnered up with at the very beginning.
Instant, easy access to mods.
Starting today, console players with a registered mod.io account will find a brand new in-game mod browser, which makes it easy to explore the full library of mods and enable them with just the press of a button.
With mods being a massively requested feature by the community, and although they are still an uncommon feature on consoles overall, Saber and Focus Home are proud to bring them to PlayStation 4 and Xbox One players today, with a lot more still to come.
SnowRunner is available now on PlayStation 4, Xbox One, and PC. Its Season 2: Explore & Expand is also available as a standalone DLC or as part of the Season Pass. Get up to 40% off on the base game, the Premium Edition and the Season Pass until December 21st with the Focus Home Interactive Publisher Sale on Xbox One! Visit our official store for more information.