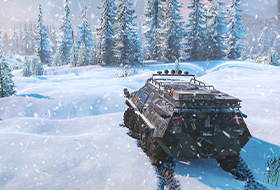 30 March 2021 / SnowRunner
SnowRunner comes to Nintendo Switch on May 18 - take trucking on the go
SnowRunner brings realistic physics, real trucks, and tons of mud and snow to the Nintendo Switch on May 18. The blockbuster off-roading game will enter portable form for the first time with all the same content and adventure as the PC and other console versions. Drive stunningly recreated vehicles from brands such as Ford, Chevrolet, and Freightliner as you leave your mark on an untamed open world. SnowRunner has been making waves with the ultimate off-road experience thanks to a best-in-class physics engine on PS4, Xbox One, and PC, and will now come to Nintendo Switch!
The ultimate off-road experience soon on Switch !
Be prepare to overcome mud, torrential waters, snow, and frozen lakes while taking on perilous contracts and missions now on the go. Expand and customize your fleet with many upgrades and accessories including an exhaust snorkel for heavy waters or chain tires to battle the snow.
SnowRunner will launch for Nintendo Switch on May 18, bringing hours upon hours of hauling, logging, mudding, repairing, driving, and saving to all players. Look out for more news soon.
Pre-orders are available for the retail edition of SnowRunner on Nintendo Switch. The game is already available on PC (Epic Games Store), Xbox One, and PlayStation 4.