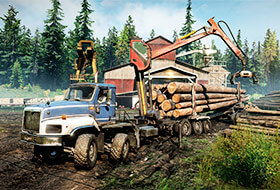 12 February 2021 / SnowRunner
Season 3: Locate & Deliver, is out now - watch the new launch trailer to discover returning logging gameplay, new maps, new vehicles and more!
SnowRunner, the block-buster ultimate off-road driving experience from Saber Interactive and Focus Home Interactive, is expanding once again with Season 3: Locate & Deliver. Available to all Season Pass and Premium Edition owners, Season 3 brings two new maps in a new region, new vehicles, vehicle skins, stickers, and the return of iconic, loved logging gameplay. The accompanying free update also brings new content for all players. Watch today's Launch Trailer for a full breakdown of the new content, following its reveal in Epic's Spring Showcase.
Wisconsin comes to SnowRunner with classic, fan-favourite logging gameplay!
Wisconsin, USA debuts as part of Season 3, a new region all about logging lumber for big paydays. A limited number of generators are needed to power all the buildings in the area and it's up to you to pick and choose what you need and when as you repair a train station and accompanying lines.
The new vehicles are the International PayStar Twin Steer, the Pacific P512 PF, and the BOAR 45318. You'll be taking them through the maps of Grainwoods River and Black Badger Lake. Both are flooded, densely forested landscapes filled with broken down machinery and missions to discover.
The traditional free update alongside Season 3's paid content adds new trials, cargo, and missions, as well as various cosmetic upgrades. This includes more fan-favourite logging in existing maps so everyone can have a taste of what makes SnowRunner special. In addition, all players are invited to download from the ever-expanding selection of community-made mods on both console and PC to further enhance their SnowRunner experience.
SnowRunner is available now on PlayStation 4, Xbox One, and PC. Season 3: Locate & Deliver is also available as a standalone DLC or as part of the Season Pass. The Premium Edition of the game includes both the base game and Season Pass, and can be purchased on the official store. Finally, enjoy exclusive discounts on SnowRunner and other selected Focus titles in the Epic Games Store's Showcase Sale until February 25.