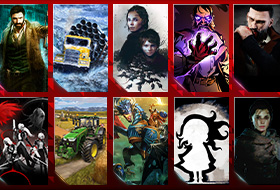 4 March 2022
Publisher Sale on Nintendo eShop with up to 70% off across publisher catalog
Discover the Focus Publisher Sale on the Nintendo eShop (Europe, US, Asia), featuring discounts on a wide range of Focus releases and bestselling titles on Nintendo Switch until March 13. Huge deals are available across the Focus catalog, including the ultimate off-road experience SnowRunner, Farming Simulator 20 and its huge and ever-expanding garage, darkly challenging roguelite Curse of the Dead Gods, acclaimed adventure A Plague Tale: Innocence, fast-paced tactical Warhammer Age of Sigmar: Storm Ground, the indie gem Shady Part of Me, and much more!

Up to 30% off the SnowRunner collection
Get exclusive discounts on SnowRunner, the Premium Edition and some DLCs! The Premium Edition includes the base game and all already-released content from Year 1 Pass. Grab the Year 2 Pass with two Seasons already available, and get exciting upcoming content with the soon-to-come Seasons 7 and 8.

Get 50% off the ultimate farming simulator on Nintendo Switch!
Take control of a wide range of faithfully recreated farming vehicles and tools, from leading brands in the industry like John Deere, Fendt, New Holland and more. In Farming Simulator 20, you can grow your farm, tend to livestock, ride horses and enjoy many farming activities.

30% off the beloved challenging roguelite Curse of the Dead Gods
A fully-fledged member of the roguelite family, Curse of the Dead Gods will challenge players in a seemingly-infinite labyrinth of bottomless pits, deadly traps, and monsters. Dive into the temple and delve ever deeper with a 30% discount, and enjoy the latest cross-update which has welcomed Dead Cells content in the game.

Play the award-winning adventure A Plague Tale: Innocence at 50% off
Acclaimed by players and press alike, the breathtaking and dark tale of Amicia and Hugo is playable on Nintendo Switch through the Cloud Version system. Looking into the future, don't miss the eagerly-awaited sequel of the two siblings in 2022, releasing Day One in Cloud Version for Nintendo Switch!

Warhammer: Age of Sigmar - Storm Ground at 25% off
Strategy lovers and Warhammer fans are covered on Nintendo Switch with the fast-paced tactical game set in Games Workshop's Age of Sigmar. In a dark-fantasy universe, Storm Ground makes you the commander of an army and you will unlock new units, equipment and devastating skills in a dynamic and spectacular turn-based game packed with fast-paced warfare.

Shady Part of Me - The indie adventure puzzle game has a 33% discount
Shady Part of Me sends you on an emotional and dream-like journey, with breathtaking artistic direction and the enthralling voice of Hannah Murray (Game of Thrones, Skins). Ideal for players on the go starving for a short, deeply impactful adventure which enthralled press and players.
Watch the trailer

The sale is an opportunity to try out some of Focus Entertainment's best-loved games in their Nintendo Switch editions at reduced prices, which also includes the intense experiences of Othercide, Call of Cthulhu and Vampyr.