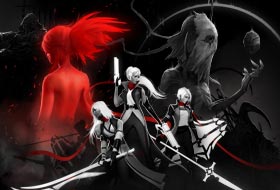 10 September 2020 / Othercide
Othercide is available now on Nintendo Switch alongside a new update on PC
After a triumphant release on PC, PlayStation 4 and Xbox One, Lightbulb Crew and Focus Home Interactive celebrate the long-awaited Switch release of the tactical horror RPG Othercide with a new Launch Trailer showcasing the game's warm reception from press and players alike. To celebrate the release period, players can enjoy a special discounted price on the Nintendo eShop, in addition to a discount currently on Steam as part of the Focus Home Interactive Publisher Weekend. The new Dream Mode also arrives today on PC, coming at a later date to PlayStation 4, Xbox One and Nintendo Switch.

Dream Mode eases the challenge for new players

The Dream Mode update brings a new difficulty mode that lessens some of the harshest experiences in Othercide for smoother gameplay. The original and intended difficulty for the game is still available as Nightmare Mode. This update also brings a number of balance changes across both modes to lessen the punishing nature of the game's first boss, The Surgeon.

In Dream Mode, Daughters regenerate health more regularly and an additional Resurrection Token is granted on game start. This allows players to more freely use abilities that cost HP and worry less about the death of their Daughters. The game is still challenging, and wrong moves will lead to a quick death, but increased accessibility should allow more players than ever to enjoy their trip to the Dark Corner.

Othercide is available on PC, PlayStation 4 and Xbox One, and is now available on Nintendo Switch alongside a special 20% discount on the Nintendo eShop for a limited time! Othercide is also currently discounted for the first time on Steam as part of the Focus Publisher Weekend from September 10 to 14.