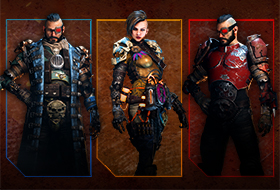 23 November 2021 / Necromunda: Hired Gun
Necromunda: Hired Gun receives three new cosmetic sets with Gang Wars Cosmetics Bundle and the free Hellhound Pack
Streum On Studio and Focus Entertainment are pleased to release the Gang Wars Cosmetics Bundle for Necromunda: Hired Gun, the fast-paced, brutal FPS set in one of the deadliest hive cities of the Warhammer 40,000 universe. You can now embody your favourite Necromunda Gang with three new sets of skins. Check them out in today's screenshots!
Hunt bounties, make money, and look bloody good doing it
The Gang Wars Cosmetics Bundle contains three new cosmetic sets with different looks for your outfit, knife, loyal cyber-mastiff, and chew toy. Each set is themed around the Escher, Goliath or Nautica gangs. Pick a side or die alone, there's no in between.
The Hellhound Pack available for free for all players
With the recently released free Hellhound pack, players can add yet another set of skins as they eliminate high-value targets to further augment their deadly bodies. The cosmetic pack comes with unique cosmetics for your knife, outfit, and mastiff.
Necromunda: Hired Gun is 38% off on Steam for a limited time. The merciless depths of Necromunda await.
The Gang Wars Cosmetics Bundle is available now. Necromunda: Hired Gun is also available on PlayStation 5, Xbox Series X|S, PlayStation 4, Xbox One, and PC.