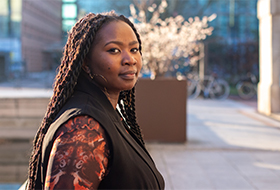 10 February 2022
Meet Mamou Coulibaly, Sales & Logistics Assistant
Could you please introduce yourself?
Hello, my name is Mamou and I've been a Sales & Logistics Assistant at FOCUS Entertainment since March 2021.
What are your tasks as Sales & Logistics Assistant at Focus Entertainment?
The Sales & Logistics assistant acts as the link between internal (Key account Managers, Accounting, Management Control) and external stakeholders (warehouses which are both our suppliers and our customers) by taking charge of the administrative, commercial, and logistical management.
Our goal is also to guarantee a smooth process when sending a product upstream. This means ensuring the availability of the goods, respecting the deadlines, that the goods reach their destination well, and finally, the transmission of the invoice or credit.
Even if all the due diligence is carried out well, we can sometimes face disputes that we must know how to resolve.
In your opinion, what are the qualities of a good Sales Assistant?
The Sales & Logistics assistant must above all be organized, rigorous and be able to anticipate.
Knowing how to communicate and adapt are also good qualities because we're in contact with several interlocutors.
It's therefore necessary to know how to give the right information to the right people with the right level of speech and posture (and in the right language 😊).
Have you always wanted to join the industry?
I'm not a "gamer" at heart but the industry is extremely interesting and very dynamic. What makes the Focus adventure rewarding is that everyone is given the opportunity to contribute to the whole.
Every day is a new learning opportunity.
Why would you recommend Focus Entertainment?
I recommend Focus Entertainment because it's a unique adventure where everyone can share their ideas. It's also a modern business with people working in unison towards a common goal.