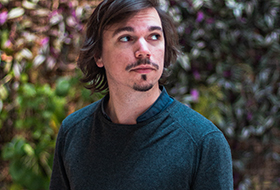 14 December 2021
Meet Paul Chagnon, Line Producer
Could you please introduce yourself?
Hello everyone, I'm Paul and I joined Focus as Line Producer in 2014.
What are your responsibilities as Line Producer at Focus Entertainment?
The Line Producer at Focus is the central point of contact between the development studio and us as publisher. Every month, I analyse and evaluate the project's progress, follow the teams throughout production, understand their problems, and help them with constructive criticism that allows them to see the big picture of the project.
I don't do business or marketing. I'm mainly interested in the quality of the games and their production follow-up (schedule and risk management). I'm a sort of project reference point for us as publisher. This gives me the opportunity to work directly with creators (game directors, artists, narrative designers, etc.) on games that are important to them, while representing the position of Focus.
For you, what are the qualities of a good Line Producer?
The first quality is communication. We work directly with the development teams and have to build long-term relationships (a PC/console video game production takes place over several years!), so it's important to establish a good working relationship.
Furthermore, as the production teams are the ones who spend the most time following the projects, you have to be able to convey the vision of the project to the other departments, which reinforces the need to be a good communicator.
The second quality, for me, is composure. It's a multifaceted position which can be demanding because of the quality monitoring it requires, the management of schedules and risks, and the continuous search for solutions. We touch on a huge number of areas, so it's essential to know how to prioritise despite stressful situations and to know how to stand back to make the right decisions, both for the project and the teams.
Have you always wanted to work in the games industry?
In the games industry, most of us are gamers in our spare time! It was this background that made me want to join the industry. So yes, I always wanted to join the industry, as it was a passion.
What advice would you give someone who has recently joined the industry?
For a newcomer, I strongly encourage them to read up and try to understand the industry as a whole: What is the role of a publisher? How does video game production work at a developer? What are the key phases of development? Why was this game appreciated by players? Who is the target audience for this type of game?
By understanding the industry, you can better understand your role and what you can contribute to it.
The second piece of advice for gamers is to continue to enjoy playing! We're still an industry made by and for enthusiasts, so I encourage everyone to keep testing different games and see what you like about each one.
What's your favourite memory at Focus so far?
Having arrived at Focus in 2014, I've accumulated a lot of memories over the years so it's not easy to choose just one!
What really stands out to me working at Focus is the overall will of everyone to make good games. That might sound obvious, but it's a real quality, since it's not just about profitability. There's a real respect for the vision of the developer, and to me that's worth something. Our means and teams have evolved a lot since 2014, but the basic idea of quality is a foundation of our work.
The second thing for me is the working atmosphere, which is really great. Every morning when I go to the office I'm reminded that I work with friendly teams, who are serious and passionate, and with whom we will overcome all obstacles.
I enjoy working here and therefore I don't have a "best" memory to date (yet). 😊