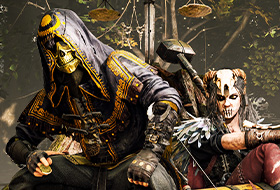 28 July 2021 / Hood: Outlaws & Legends
Hood: Outlaws & Legends introduces new stealth-focused PvE Mode: State Heist!
Hood: Outlaws & Legends, the multiplayer heist game from Sumo Digital and Focus Home Interactive on PlayStation 5, Xbox Series X|S, PlayStation 4, Xbox One and PC, introduces an exciting new PvE game mode today in a free update. Watch the State Heist Update Trailer for a taste of what awaits in-game!
Sneak to survive an even deadlier State
Named State Heist, this PvE mode replaces the enemy player team with deadlier opposition from the State and introduces challenging new mechanics, emphasizing stealth and cooperation. In place of opposing players, your team of four is pitted against a far more dangerous and responsive State with limitations on respawning that creates a completely new dynamic - one that will require a more careful and methodical approach for success.
Execute the perfect State Heist to get the Shadow Lords costumes in a new event
To celebrate the State Heist launch, Focus and Sumo introduce the Survive the State event. Players who successfully steal the chest in State Heist without dying will receive the new Shadow Lords costume for the character they were playing - be tenacious and you'll get them all! The rewards will be unlocked when the event ends August 2nd.
A treasure vault of exciting free content still to come
The Hood journey is just getting started! Since release, Focus and Sumo have been actively working on the game's improvement by listening carefully to community feedback to offer the best heist experience possible. The game has already received a number of gameplay updates and tweaks, while players can look forward to even more free content over the course of this year. Season 1: Samhain is just around the corner, bringing a free, game-changing new outlaw, a full rework of the winch system, tons of cosmetics, events and much more.
Hood: Outlaws & Legends is available now on PlayStation 5, Xbox Series X|S, PlayStation 4, Xbox One, and PC. Get the Year 1 Edition, including the base game and Year 1 Battle Pass Pack, to access three premium Battle Passes, due to be released after the initial free Season, for a year of exclusive cosmetics!