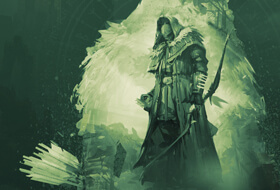 3 December 2020 / Hood: Outlaws & Legends
Hood: Outlaws & Legends fires off 4 new story trailers ahead of exciting reveals at The Game Awards 2020
Hood: Outlaws & Legends, the multiplayer PvPvE heist game from Sumo Digital and Focus Home Interactive, comes to PlayStation 5, Xbox Series X|S, PlayStation 4, Xbox One and PC in 2021. Gather your team of Outlaws and attempt to steal treasure from an oppressive government in a dark and violent, medieval world. Today, delve into the dark backstories behind the outlaws and legends you'll be playing, with four new narrative trailers! In addition, stay tuned for more surprises next week at The Game Awards 2020!
Legends and myths, retold in blood
Faced with a merciless, unchecked state, rebels and rogues now battle to claim their place among legends. Each have their own reasons for getting back at the State, going beyond just earning riches. By extracting riches and collectibles during heists, uncover the dark backstories and forgotten secrets of these legendary characters.
Stay tuned for more exciting Hood news, as exclusive content and information will be unveiled at The Game Awards next week, December 10, 4PM PST!
Hood: Outlaws and Legends releases 2021 on PlayStation 5, Xbox Series X, PlayStation 4, Xbox One, and PC. The game is available to wishlist on Steam today. Visit www.hood-game.com for more information and register to receive newsletters by email.