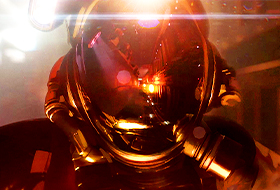 9 August 2021 / Hardspace: Shipbreaker
Hardspace: Shipbreaker nominated at SIGGRAPH 2021
Blackbird Interactive and Focus Home Interactive's acclaimed space sandbox salvaging game is on a roll! Fresh off a double win at the 2021 Canadian Game Awards - that saw it take home both the "Best Game Design" and "Fan's Choice" awards - the game's opening cinematic has now been selected as part of the prestigious Electronic Theater at SIGGRAPH, the premiere conference for computer graphics.
A bitter-sweet opening, setting the tone for a blue-collar worker dystopia
Human warmth and intimacy clash with the daunting scale and indifference of outer space in the first few seconds of the introduction sequence, as the player gets indentured to Lynx - a massive corporation that has industrialized much of the solar system. How can workers who take pride in their job fight for their rights? Players will have to play the first few recently released chapters of the upcoming Career Mode to find out.
More content to come during the game's already successful Early Access
Hardspace: Shipbreaker hit Early Access on Steam in June 2020 and has been continuously enriched with new content thanks to the close partnership between the dev team and the community. With new ships, story, and additional content coming in the future, there's never been a better time to sign up to become a registered Lynx Employee and join our ever-growing community of shipbreakers on our social channels.
The game offers a strong sense of place through highly interactive physics-driven hazardous environments, immersive audio, and a three-dimensional approach to problem-solving in Zero-G.
It is currently available on Steam Early Access, and can be purchased at a discount through the bundle including the game + OST. Console releases are planned at a later date.