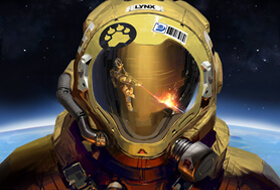 24 June 2021 / Hardspace: Shipbreaker
Hardspace: Shipbreaker launches a new gameplay update with special discount
Blackbird Interactive and Focus Home Interactive's acclaimed space sandbox salvaging game, Hardspace: Shipbreaker, has launched its newest Early Access free update, the "Pretty Rad" update. Discover the latest additions, featuring a brand-new elemental system, Radiation, in new screenshots, and grab the game today at 30% off on Steam. New to Hardspace? You can check below our Gameplay Overview Trailer that introduces you to the unique gameplay of this spaceship salvaging game.
A brand-new hazard has made its way to the ships in Hardspace!
The radiation hazard has arrived on LYNX's salvage bays, and now you will need to protect yourself while extracting radiation filters from high-danger ships!
The radiation is unlike anything you've faced before. Not only does exposure to it slowly drain your life away, but it also makes the materials around you decay and become brittle. You must take extra special care when moving things around after it's been irradiated. Did we mention it's also flammable?
Included in this update is a refresh on the HAB UI, streamlining navigation and readability in preparation for the future hub rework. There also have been improvements to the sticker system, and several other optimizations and bug fixes.
Join LYNX's ranks with a special 30% discount!
This new update expands the endlessly replayable Hardspace: Shipbreaker experience even further. Since launch, the game has been packed with new content including new ships, a new tool, a reworked campaign and storyline, customization options and many changes based on the ever-growing community's feedback. For a limited time starting today, you can pick up Hardspace: Shipbreaker at 30% off.
Hardspace: Shipbreaker is available now on Steam Early Access. In celebration of today's Pretty Rad update, the game is currently 30% off on Steam for a limited time. The GAME + OST Bundle is also available for purchase on Steam, with an additional special discount. Console releases are planned at a later date.