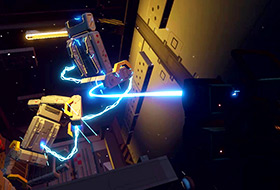 20 August 2020 / Hardspace: Shipbreaker
Hardspace: Shipbreaker expands Early Access content with new game mode and more
Blackbird Interactive and Focus Home Interactive's acclaimed space sandbox salvaging game Hardspace: Shipbreaker is available today on Steam Early Access, currently enjoying a Very Positive user rating over 90%. Equipped with cutting-edge salvaging tech, carve and slice spaceships to recover valuable materials. Upgrade your gear to take on more lucrative contracts and pay your billion credits debt to LYNX Corp. After two months of Early Access and regular content and community-requested additions like a new game difficulty setting, today sees the launch of a hotly-anticipated feature, as the Weekly R.A.C.E., a weekly challenge mode, and more bring even greater replayability to this unique title. For more information, check out Blackbird Interactive's latest Dev Vlog!

A unique challenge every week!

The Weekly R.A.C.E. offers up a unique time-limited challenge, as salvagers across the world can challenge themselves to extract the most value from a unique ship each week. Competitive players can vye for the top spots on this new mode's dedicated leaderboard, accessible on the leaderboard website or through the official website, to be crowned the universe's best salvager each week!

Hardspace: Shipbreaker's passionate community has already proven to be of huge importance in the game's development throughout the Early Access period. Several much-requested features have already made their way into the game since launch, such as an Open Shift mode that allows for a more relaxed playstyle with no time or oxygen restrictions in the campaign. Take a look at the game's roadmap on Steam and below for a summary of what's been added and is still to come - between new campaign acts, ships, tools, and more, the adventure is far from over!

Hardspace: Shipbreaker is available now on Steam Early Access. PlayStation 4 and Xbox One releases are planned at a later date.