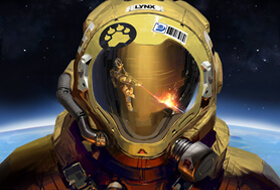 10 September 2020 / Hardspace: Shipbreaker
Hardspace: Shipbreaker celebrates strong reception from press and players with new Reaction trailer and September Equinox community event
Blackbird Interactive and Focus Home Interactive's space sandbox salvaging game Hardspace: Shipbreaker is available now on Steam Early Access. The game has already received an incredible response from both press and players, currently enjoying a 90% Very Positive rating on Steam. The unique title has also won over the streaming community - check out today's trailer as streamers discover, explore and explosively decompress within the zero-G physics system.

A galaxy of content ahead

Hardspace: Shipbreaker has been regularly updated since launch, and there's plenty of fresh content still to come. While today's update, available now on the beta branch, brings a new subclass of ship and more tutorials for new players, over the course of Early Access, players can look forward to new ships, tools, upgrades, game modes, additional customization options, and more. The upcoming releases of Acts 2 and 3 will also bring the campaign to a total of over 40 hours of gameplay. Throughout Early Access, the community continues to be an important part of the game's evolution, with highly requested features such as the "Open Shift" campaign mode making their way into recent and future updates. For more info on what's still to come, take a look at the Living Roadmap. Players can also share their feedback on social media about today's update before it heads to the main branch later this month.

September Equinox event brings contests and prizes!

To celebrate the journey made so far since the game's launch, the September Equinox community event arrives today, bringing two competitions open to salvagers everywhere! These include a contest to write an in-game narrative log, and another to design a collectible decal. The two winners will have their submitted content implemented in-game, as well as other prizes still to be announced. Players can join the Hardspace: Shipbreaker Discord for more information.

Hardspace: Shipbreaker is out in Early Access, and is currently available with a 25% discount as part of the Focus Publisher Weekend on Steam. PlayStation 4 and Xbox One releases are planned at a later date.