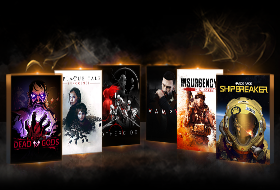 29 October 2020
Halloween Sale on Steam brings top discounts across the catalogue!
Get ready for spookily huge deals with this year's Halloween sale on Steam, featuring discounts on our recent releases and bestselling titles until November 2. Discounts are now live for last year's hit A Plague Tale: Innocence, widely celebrated for its gorgeous visuals and gripping narrative crafted by developers Asobo Studio. With DONTNOD's Vampyr, RPG fans can explore a dark 1918 London, as Dr. Jonathan Reid struggles to live with his decisions, cursed to feed on those he vowed to heal. Cyanide invite you to dive into Edward Pierce story in Call of Cthulhu, sent to look into the tragic death of the Hawkins family on the isolated Darkwater Island. There's never been a better time to grab these experiences praised by journalists and players alike!
The sale is also the perfect opportunity to try out some of our latest releases at reduced prices. These include the beautiful and enigmatic tactical horror game Othercide by Lightbulb Crew, which recently received the much-anticipated 'Dream Mode' update. You can also dive into our Early Access gems at a reduced price! Face new challenges in Passtech's skill-based roguelike Curse of the Dead Gods with its brand-new major update, The Armory, and slice spaceships in zero-G in Blackbird Interactive's Hardspace: Shipbreaker, which benefits from the biggest addition yet with The Haunted Frontier update's Ghosts Ships.

FPS lovers have not been left behind and can get a great discount on Space Hulk: Deathwing – Enhanced Edition. Engage in a desperate battle against Genestealers set in Games Workshop's Warhammer 40,000 universe! Finally, Halloween night has fallen on Insurgency: Sandstorm, the intense modern tactical FPS by New World Interactive. The 'Task Force 666' limited-time event sees you taking on special enemies who can teleport, explode into flames, or soak up a ton of damage - survive as long as you can!
More details of the offers are available here:
https://store.steampowered.com/publisher/Focus/list/51550
A Plague Tale: Innocence: 66% off
Bound by Flame: 66% off
Call of Cthulhu: 70% off
Curse of the Dead Gods: 33% off (New Major Update: "The Armory Update")
Faery: Legends of Avalon: 75% off
Fear the Wolves: 75% off
Final Exam & 4-Pack: 80% off
Hardspace: Shipbreaker: 25% off (New Major Update: "The Haunted Frontier")
Mars: War Logs: 80% off
Othercide: 30% off
The Next BIG Thing: 80% off
Space Hulk: Deathwing – Enhanced Edition: 75% off
Styx: Shards of Darkness: 75% off
Vampyr & DLCs: up to 70% off