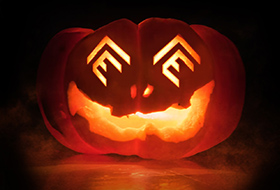 28 October 2021
Halloween Sale - take advantage of scary savings up to 75% off on the Focus Entertainment Store before November 2!
During the Halloween sale, grab new releases at low prices! Dive into some scarily good games, including Insurgency: Sandstorm with its free Halloween 'Task Force 666' game mode event at 50% off. The supercharged Warhammer 40,000 FPS Necromunda: Hired Gun joins the sale at 25% off the digital PC version (Steam key), with an exclusive and reversible Focus Entertainment Store cover also available for physical console versions. Survive the xenomorph swarms of Aliens: Fireteam Elite, or the rampaging zombie hordes of World War Z: Aftermath, both available at 20% off!
Dive into the heart of horror with beloved games from the Focus catalog. Explore the dark streets of 1918 London as Doctor Jonathan Reid in Vampyr, overcome swarms of rats in A Plague Tale: Innocence, and uncover the gruesome mysteries of a remote island in Call of Cthulhu. If you have the soul of a collector, A Plague Tale: Innocence and Call of Cthulhu also have their very own exclusive and reversible Focus Store covers.
Our indie gems aren't being left out of the Halloween holiday spirit! Dare to venture into the doomed temple of Curse of the Dead Gods, and face off against the nightmarish creatures of Othercide.
Many more games await! From October 28 to November 2, get your fill of thrills with a selection of must-see games at shocking prices up to 75% off!