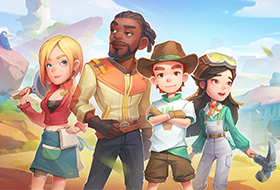 28 February 2023 / My Time at Sandrock
Focus partners up with Pathea Games and becomes the publisher of My Time at Sandrock on PC
We are pleased to announce a new partnership with Pathea Games for the worldwide publishing of the PC edition of 'My Time at Sandrock' (excluding Asia), effective since January 17th. 'My Time at Sandrock' is the spiritual successor to 'My Time at Portia', which was praised by both the press and gamers upon its release in 2019. Still in development, 'My Time at Sandrock' is currently in Early Access on Steam, allowing players around the world to enjoy the game and help it grow before its release. We've already gathered a solid community of dedicated fans, as well as new players as we've opened the franchise towards new horizons.
In addition to the PC edition of 'My Time at Sandrock', Focus Entertainment is now publishing 'My Time at Portia' on PC worldwide, as well as for the PlayStation 4, Xbox One, and Nintendo Switch editions starting in April 2024 (worldwide publishing rights on all platforms, except China for Nintendo Switch).
"The 'My Time' series holds profound significance to us, and we ardently aspire to share its captivating narrative and attain universal recognition. We are brimming with fascinating stories and ideas that we are eager to convey with a broader audience. Partnering with the preeminent publisher Focus Entertainment presents an extraordinary prospect to unveil the 'My Time' series to a diverse array of mediums and invite an ever-growing multitude of enthusiasts into this captivating post-apocalyptic realm."
Aaron Deng, the Vice President of Pathea Games
"It is an honor to be able to work with the talented teams at Pathea Game on such a renowned franchise. My Time at Portia was a resounding success in the industry, and we are proud to be able to bring all of Focus' expertise to its spiritual sequel, My Time at Sandrock."
Julien Ramette, Chief of Business Development at Focus Entertainment.