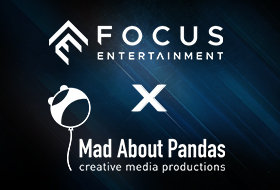 6 February 2023
Focus Entertainment teams up with Mad About Pandas to publish a brand-new indie title.
Focus Entertainment is pleased to announce a partnership with the German studio Mad About Pandas for a new entry in the Focus INDIE SERIES. With the intention to craft unique experiences, the passionate teams of Mad About Pandas aims to combine their expertise to create highly compelling core game mechanic with narrative storytelling skills.
Focus Entertainment is delighted to enrich its catalogue with a captivating new gem, and proves they continue working with rising and talented new studios.
"Our current production began as a love letter to the urban spaces of the 1970s." says Patrick Rau, CEO of Mad About Pandas. "From there, the project unfolded to include layers of metaphysical strangeness, a memorable cast of characters, and some pretty mind-bending game mechanics. Today, we're very excited to partner with Focus Entertainment to deliver our shared vision of a unique and boundary-breaking game title."
"Shaking up the dialogue between narrative and gameplay has always been one of the most interesting challenges in video games." says Yves Le Yaouanq, Chief Content Officer at Focus Entertainment. "The Berlin studio Mad About Pandas aims to reach this frontier and managed to enthuse us with an innovative take on the notion of gameplay, character, and universe. This partnership demonstrates once again our desire to break the codes while offering unique modern experiences, supported by spectacularly creative art directions. We can't wait for players to discover the game, at the crossroads of genres and universes."
About Mad About Pandas:
Mad About Pandas is an award-winning German independent video game developer founded in 2005 by Patrick Rau and based in Berlin. The studio focuses on producing narrative games such as the mystery adventure title "Hitchhiker", while also working on commissioned projects for clients such as Goethe Institute, Bundesagentur für Arbeit, and Disney. For many years, the studio was focused mostly on the production of games based on mobile devices (iOS, Android, Nintendo DS and Switch), which resulted in titles such as Ubisoft's "Galaxy Racers", "The Great Jitters: Pudding Panic", "Forever Forest", "Truck Simulation 16" and "Laika."