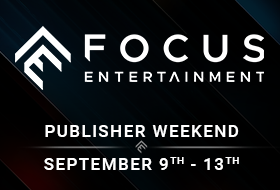 9 September 2021
Focus Entertainment - Publisher Weekend on Steam brings discounts up to 90% off across publisher catalogue
This year's Focus Entertainment Publisher Weekend features discounts on a wide range of recent releases and bestselling titles. Huge deals are available across the entire Focus catalogue, including the next-generation off-road experience SnowRunner, fantasy RPG GreedFall Gold Edition, acclaimed adventure A Plague Tale: Innocence, fast-paced Warhammer 40.000 FPS Necromunda: Hired Gun, darkly challenging roguelike Curse of the Dead Gods, the indie gems Shady Part of Me and Othercide, and much more!
Get exclusive discounts on SnowRunner and its DLCs! Season 5: Build & Dispatch, the first Season of the Year 2 Pass, has just launched and welcomes you to two brand-new maps of the Rostov Oblast region. Grab the Year 2 Pass to get exciting upcoming content for SnowRunner, as well as the Premium Edition including the base game and Year 1 Pass.
The medieval co-op heist game Hood: Outlaws & Legends just commenced Season 1: Samhain. Since launch and with Season 1 release, the game has received a number of free updates including a new playable character, PvE mode, new maps for both modes and many gameplay improvements following community feedback. These major free additions are joined by the first paid Battle Pass, with 100 cosmetics to unlock, including some for free.
Hardspace: Shipbreaker also received new content earlier this week with a new major, free update: The Admin Oversight Update, introducing the second out of the three campaign acts planned for the game, and more exciting new features. An amazing community has emerged over a year of Early Access - join them while enjoying a discount for both the Standard and the Game + OST Editions!
FPS fans have the opportunity to get a great discount on Insurgency: Sandstorm, the intense co-op tactical FPS. The game has received several massive updates since launch, including the latest free "Operation: Exodus" update which brings a new map, new mode, free weapons and more! Deluxe Edition, including base game and Year 1 Pass, and Gold Edition including base game, Year 1 Pass and Year 2 Pass will release Sept 29 on Steam.
Looking to the future, discover exciting upcoming games from Focus Entertainment! Add the dark fantasy action game Evil West, and eagerly-awaited sequel A Plague Tale: Requiem to your wishlist to not miss any upcoming news! Lastly, the definitive version of the multi-million selling zombie shooter game, World War Z: Aftermath, arrives September 21st.
Welcomed a few months ago into the Focus family, Deck13 Spotlight also has awesome indie gems to offer, and is part of the Publisher Weekend sale in a dedicated section with games including the critically-acclaimed bestseller CrossCode, Vesper, Faraday Protocol and Rising Lords. Check it out!
The sale is an opportunity to try out some of Focus Entertainment's best-loved games in their most complete editions at reduced prices. This includes GreedFall, in which players can explore uncharted lands filled with magic, secrets, and fantastic creatures. Get the complete RPG experience with the recently-released GreedFall Gold Edition, also discounted for the occasion, including the full game and the De Vespe Conspiracy story expansion. Delve into the cyberpunk, nanite-infested world of the brutal action-RPG The Surge 2 and it's Premium Edition including all DLCs. Rev your engines and enjoy the most complete farming experience with Farming Simulator 19 Premium Edition. Focus Entertainment and Games Workshop are giving fans of Warhammer and Warhammer40,000 good reasons to ready their weapons, with a host of deals. Command vast fleets in space RTS Battlefleet Gothic: Armada 2 Complete Edition, engage in a desperate battle against Genestealers in the fast-paced FPS Space Hulk: Deathwing – Enhanced Edition or conquer the Mortal Realms in Age of Sigmar: Storm Ground.
More details of the offers are available here.
A Plague Tale: Innocence (Asobo Studio): 75% off
Battlefleet Gothic: Armada franchise (Tindalos Interactive) & DLCs: up to 80% off
Call of Cthulhu (Cyanide Studio): 75% off
Curse of the Dead Gods (Passtech Games): 33% off
Farming Simulator 19 (GIANTS Software) & DLCs: up to 60% off
GreedFall (Spiders Studio) & DLCs: up to 60% off
Hardspace: Shipbreaker (Blackbird Interactive): up to 33% off (New Update: "The Admin Oversight")
Hood: Outlaws & Legends (Sumo Newcastle) & editions and DLCs: up to 40% off (Season 1: Samhain and the Battle Pass now available)
Insurgency: Sandstorm (New World Interactive): 50% off (Latest Update: "Operation: Exodus")
Necromunda: Hired Gun (Streumon Studio): up to 25% off
Necromunda: Underhive Wars (Rogue Factor) & DLCs: up to 66% off
Othercide (Lightbulb Crew): up to 60% off
Shady Part of Me (Douze Dixièmes): 50% off
Space Hulk: Deathwing – Enhanced Edition (Streumon Studio): 75% off
SnowRunner (Saber Interactive) franchise (MudRunner, SnowRunner, Editions and DLCs): up to 80% off
The Surge (Deck13 Interactive) franchise: up to 75% off
Vampyr (DONTNOD Entertainment): 75% off
Warhammer: Age of Sigmar - Storm Ground (Gasket Games): up to 50% off
And many more!