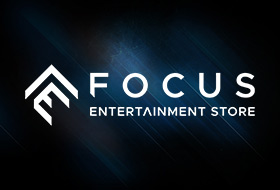 24 September 2021
Focus Entertainment launches its brand new Online Store and user accounts today!
Focus Entertainment is pleased to announce the launch of both its online store and Focus Account today. To celebrate this event, exclusive sales and offers for Focus members will be available for the store's opening days.
The official store: unique physical editions, merch and special offers
Players around the world will now be able to access the entire Focus Entertainment, Deck13 Spotlight, and (very soon) Dotemu library, to purchase their favorite titles to download on PC (Steam keys), or in unique physical editions for consoles and PC. Players will also be able to find exclusive merch for their favorite franchises from the richly-varied universe of Focus games. This includes the intricate A Plague Tale: Innocence statuette, the sublime artbook of Othercide and much more.
To take full advantage of this galaxy of games and merch, the Focus Entertainment Store is launching today with special discounts offered until October 8:
Up to 90% off for the players who create a Focus Account (free of charge)

The Surge game free with any purchase on the store
A set of 3 lithographs offered for the first 10,000 purchases
Your Focus Account: exclusive, personalized offers and services
Dedicated to offering its community of players the best experience possible, Focus Entertainment is taking advantage of the launch of its store to open Focus Accounts. Owners of a Focus Account have exclusive access to Focus, Spotlight and Dotemu game news and closed betas, as well as early access to upcoming community forums, services and tools. They will also benefit from personalized offers and special discounts on the official store.
"For the first time in the history of Focus, we are able to unify our community of passionate players within a single ecosystem and offer them personalized offers and services," said Tristan Hauvette, Director of Trade Marketing at Focus Entertainment. "Our ambition has always been to offer players from around the world unique experiences, with games featuring innovative concepts, remarkable gameplay and original worlds that transcend the boundaries of video games. Through our official store and member benefits, we are pursuing this ambition to offer tailor-made, quality services for our players, as well as diversifying our offerings with a range of merchandise and exclusive physical editions. We look forward to welcoming and engaging with our players, allowing us to constantly push the creativity and uniqueness of our offers."