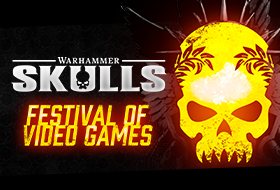 2 June 2022
Focus Entertainment celebrates the Warhammer Skulls Festival!
Games Workshop's annual Warhammer Skulls Festival has just started, with yesterday's launch event introducing exclusive teasers for Focus Entertainment's just revealed Warhammer 40,000: Boltgun and recently announced Warhammer 40,000: Space Marine 2. These Focus Entertainment highlights kick off a week of discounted Warhammer 40,000 games and DLCs, and the release of a free DLC for Necromunda: Hired Gun!
The Warhammer: 40,000 video game universe expands… Get teased!
Showcased for the first time at Skulls' opening Twitch event, Focus Entertainment unveiled exciting Warhammer: 40,000 works in progress, with an upcoming new title, Boltgun, and exclusive glimpses at the recently announced Space Marine 2.
Watch the cheeky nostalgic-turned-ecstatic teaser introducing the new neo retro shooter Warhammer 40,000: Boltgun now.
Discover the making of Space Marine 2 with the first images from a behind-the-scenes series.
Free new content for Necromunda: Hired Gun
The indie fast-paced FPS adds unique, blood red cosmetics to customize your knife and outfit with the Spire Noble Skin Pack. Download for free and celebrate the Skulls Festival in style!
A week of Warhammer 40,000 discounts
During this week-long event, players can enjoy dedicated Skulls sales on the Focus Entertainment Store and on Steam, as well as Microsoft Xbox and Windows Stores, Humble Bundle, GamersGate, Green Man Gaming and Gamesplanet. Don't miss these exceptional sales and hottest deals including:
Space Hulk: Deathwing - Enhanced Edition — Up to 80% off, to engage in a desperate FPS battle against Genestealers!

Space Hulk: Tactics — Up to 80% off to take on the tactical-RPG which faithfully adapts the board game Space Hulk.

Battlefleet Gothic: Armada franchise and DLCs — Up to 80% off, to experience the definitive video game adaptation of Games Workshop's incredible space battle game.

Necromunda: Underhive Wars and DLCs — Up to 75% off, to jump into the dark and violent world of this innovative third-person tactical turn-based RPG set in Games Workshop's iconic far-future cityscape.

Warhammer Age of Sigmar: Storm Ground and DLCs — Up to 65% off to test your tactics in this fast-paced, dark fantasy game.